About Us
Red Peppers Indian Takeaway is a Indian takeaway in Birmingham. Why don't you try our Massalla Fish in Naan or Samosa (2 Pieces)?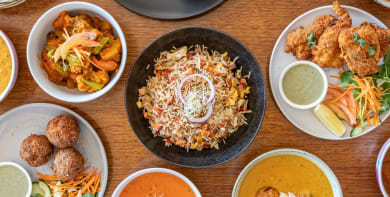 Reviews
161 reviews
Donna
"Excellent as always. Fast and tasty. Lovely delivery driver too"
24/05/2020
Sue22888
"Excellent food. Meat are so delicious and tender. We love it . Will Definitely back order Again . Thanks"
20/05/2020
Laura
"Food was lovely, a tiny bit too greasy for my liking (hence not a 5 star review) but came hot and fresh. Mutton was super tender and full of flavour. Excellent service."
18/05/2020
Paul
"Food was fantastic, everything perfectly cooked. Highly recommend the Biryina's. Service was great, delivered on time."
15/05/2020
Menu
Balti Tikka Chicken Tikka
£6.95
Balti Tikka Bhuna Chicken Tikka
£6.95
Balti Tikka Bhuna Lamb Tikka
£7.15
Balti Tikka Jalfrezi Chicken Tikka
Marinated in herbs & spices with capsicum, onions, tomatoes & green chillies
Hot
£6.95
Balti Tikka Jalfrezi Lamb Tikka
Marinated in herbs & spices with capsicum, onions, tomatoes & green chillies
Hot
£7.15
Balti Tikka Rogan Chicken Tikka
Cooked with onions & coriander garnished with spicy layer of freshly cooked tomatoes
£6.95
Balti Tikka Rogan Lamb Tikka
Cooked with onions & coriander garnished with spicy layer of freshly cooked tomatoes
£7.15
Balti Tikka Naga Chicken Tikka
Very hot
£6.95
Balti Tikka Naga Lamb Tikka
Very hot
£7.15
Balti Tikka Shashlik Bhuna Chicken Tikka
A rich but medium flavoured dish, prepared with roasted tomatoes, onions, capsicums & coriander
£6.95
Balti Tikka Shashlik Bhuna Lamb Tikka
A rich but medium flavoured dish, prepared with roasted tomatoes, onions, capsicums & coriander
£7.15
Balti Tikka Mushroom Chicken Tikka
£6.95
Balti Tikka Mushroom Lamb Tikka
£7.15
Balti Tikka Garlic Chicken Tikka
£6.95
Balti Tikka Garlic Lamb Tikka
£7.15
Curry Chicken
A very popular dish, medium spiced cooked with fresh coriander to give a mouth-watering taste
£5.15
Curry Prawn
A very popular dish, medium spiced cooked with fresh coriander to give a mouth-watering taste
£5.35
Curry Meat
A very popular dish, medium spiced cooked with fresh coriander to give a mouth-watering taste
£5.35
Curry King Prawn
A very popular dish, medium spiced cooked with fresh coriander to give a mouth-watering taste
£7.35
Bhuna Chicken
Thoroughly garnished with onions, tomatoes & selected spices to provide a delicious medium strength
£5.45
Bhuna Prawn
Thoroughly garnished with onions, tomatoes & selected spices to provide a delicious medium strength
£5.75
Bhuna Meat
Thoroughly garnished with onions, tomatoes & selected spices to provide a delicious medium strength
£5.75
Bhuna King Prawn
Thoroughly garnished with onions, tomatoes & selected spices to provide a delicious medium strength
£7.55
Rogan Josh Chicken
Cooked with onions & coriander garnished with spicy layer of freshly cooked tomatoes
£5.45
Rogan Josh Prawn
Cooked with onions & coriander garnished with spicy layer of freshly cooked tomatoes
£5.75
Rogan Josh Meat
Cooked with onions & coriander garnished with spicy layer of freshly cooked tomatoes
£5.75
Rogan Josh King Prawn
Cooked with onions & coriander garnished with spicy layer of freshly cooked tomatoes
£7.55
Dupiaza Chicken
A maximum quantity of chopped onions freshly treated with dozens of spices & herbs to produce a medium taste
£5.45
Dupiaza Prawn
A maximum quantity of chopped onions freshly treated with dozens of spices & herbs to produce a medium taste
£5.75
Dupiaza Meat
A maximum quantity of chopped onions freshly treated with dozens of spices & herbs to produce a medium taste
£5.75
Dupiaza King Prawn
A maximum quantity of chopped onions freshly treated with dozens of spices & herbs to produce a medium taste
£7.55
Madras Chicken
A hot dish
Very hot
£5.45
Madras Prawn
A hot dish
Very hot
£5.75
Madras Meat
A hot dish
Very hot
£5.75
Madras King Prawn
A hot dish
Very hot
£7.55
Dansak Chicken
A beautiful combination of spices cooked with pineapple, lentils, lemon juice & herbs to produce a slightly hot, sweet & sour taste
£5.45
Dansak Prawn
A beautiful combination of spices cooked with pineapple, lentils, lemon juice & herbs to produce a slightly hot, sweet & sour taste
£5.75
Dansak Meat
A beautiful combination of spices cooked with pineapple, lentils, lemon juice & herbs to produce a slightly hot, sweet & sour taste
£5.75
Dansak King Prawn
A beautiful combination of spices cooked with pineapple, lentils, lemon juice & herbs to produce a slightly hot, sweet & sour taste
£7.55
Korma Chicken
A preparation of mild spices with fresh cream, coconut & butter to give a very sweet creamy taste
Contains Nuts
£5.45
Korma Prawn
A preparation of mild spices with fresh cream, coconut & butter to give a very sweet creamy taste
Contains Nuts
£5.75
Korma Meat
A preparation of mild spices with fresh cream, coconut & butter to give a very sweet creamy taste
Contains Nuts
£5.75
Korma King Prawn
A preparation of mild spices with fresh cream, coconut & butter to give a very sweet creamy taste
Contains Nuts
£7.55
Saagwala Chicken
A very tasty dish cooked with spinach, tomatoes, oriental spices & herbs
Medium strength
£5.45
Saagwala Prawn
A very tasty dish cooked with spinach, tomatoes, oriental spices & herbs
Medium strength
£5.75
Saagwala Meat
A very tasty dish cooked with spinach, tomatoes, oriental spices & herbs
Medium strength
£5.75
Saagwala King Prawn
A very tasty dish cooked with spinach, tomatoes, oriental spices & herbs
Medium strength
£7.55
Vindaloo Chicken
A very hot dish prepared with ginger & chillies
Extremely hot
£5.75
Vindaloo Prawn
A very hot dish prepared with ginger & chillies
Extremely hot
£5.95
Vindaloo Meat
A very hot dish prepared with ginger & chillies
Extremely hot
£5.95
Vindaloo King Prawn
A very hot dish prepared with ginger & chillies
Extremely hot
£7.95
Mushroom Chicken
A medium dish which is lightly spiced, cooked with mushroom & garlic
£5.75
Mushroom Prawn
A medium dish which is lightly spiced, cooked with mushroom & garlic
£5.95
Mushroom Meat
A medium dish which is lightly spiced, cooked with mushroom & garlic
£5.95
Mushroom King Prawn
A medium dish which is lightly spiced, cooked with mushroom & garlic
£7.95
Pathia Chicken
Cooked with fresh spices, tomato puree, sweet & lemon juice
£5.45
Pathia Prawn
Cooked with fresh spices, tomato puree, sweet & lemon juice
£5.75
Pathia Meat
Cooked with fresh spices, tomato puree, sweet & lemon juice
£5.75
Pathia King Prawn
Cooked with fresh spices, tomato puree, sweet & lemon juice
£7.55
Mushroom Fried Rice Small
£2.95
Mushroom Fried Rice Large
£3.95
Mushroom Pilau Rice Small
Mildly spiced
£2.95
Mushroom Pilau Rice Large
Mildly spiced
£3.95
Sizzling Rice Small
Fried with onions, fresh green chillies & lemon
Hot
£2.95
Sizzling Rice Large
Fried with onions, fresh green chillies & lemon
Hot
£3.95
Massalla Chicken Tikka
An elegant dish prepared in a sauce of tomatoes, ground coconut & exotic spices
Contains Nuts
£6.95
Massalla Lamb Tikka
An elegant dish prepared in a sauce of tomatoes, ground coconut & exotic spices
Contains Nuts
£7.15
Fruity Massalla Chicken Tikka
An elegant dish prepared in fruit, ground coconut & exotic spices
Contains Nuts
£6.95
Fruity Massalla Lamb Tikka
An elegant dish prepared in fruit, ground coconut & exotic spices
Contains Nuts
£7.15
Passanda Chicken Tikka
Contains Nuts
£6.95
Passanda Lamb Tikka
Contains Nuts
£7.15
Butter Chicken
Cooked in mild spices & cream with lots of butter to our own recipe, a mild dish
Contains Nuts
£6.95
Karahi Dish Chicken Tikka
Cooked with roasted onions, tomatoes & capsicum in a medium hot sauce
£6.95
Karahi Dish Lamb Tikka
Cooked with roasted onions, tomatoes & capsicum in a medium hot sauce
£7.15
Tawa Dish Chicken Tikka
A delicate dish prepared with slices of chicken or lamb, with fresh peppers, onions & tomatoes
£6.95
Tawa Dish Lamb Tikka
A delicate dish prepared with slices of chicken or lamb, with fresh peppers, onions & tomatoes
£7.15
Jaipuri Chicken Tikka
A delicate dish prepared with yoghurt, hint of green chillies, ginger & fenugreek leaves
Hot
£6.95
Jaipuri Lamb Tikka
A delicate dish prepared with yoghurt, hint of green chillies, ginger & fenugreek leaves
Hot
£7.15
Murghi Keema Massala - Chicken Tikka
Chicken wrapped into mince meat, cooked in spicy bhuna style sauce with boiled egg
£6.95
South Indian Garlic Chilli Chicken Tikka
Hot
£6.95
South Indian Garlic Chilli Lamb Tikka
Hot
£7.15
Lasani Dish Chicken Tikka
Cooked with chicken or meat, pickle garlic, fresh onions & chillies. A truly authentic dish
Hot
£6.95
Lasani Dish Lamb Tikka
Cooked with chicken or meat, pickle garlic, fresh onions & chillies. A truly authentic dish
Hot
£7.15
Paneer Makhani
Cottage cheese cooked with ground coconut, very mild spice, flavoured with butter & fresh cream
Contains Nuts
£6.25
Tandoori King Prawn Massala
Contains Nuts
£8.15
Set Meal A
Seekh kebab or onion bhaji
Balti chicken or balti vegetable
Pilau rice or nan bread
Poppadom, Onion salad, Mint sauce & Chilli sauce
£10.55
Set Meal B
Chicken tikka & Onion bhaji
Balti chicken & Chicken tikka masala (Contains Nuts)
Pilau rice & Nan bread
Poppadoms, Onion salad, Mint sauce & Chilli sauce
£21.95
Saag, Potatoes & Lentils Small
£3.95
Saag, Potatoes & Lentils Large
£5.25
Cauliflower & Potato Bhaji Small
£3.95
Cauliflower & Potato Bhaji Large
£4.95
Massalla Sauce Small
Contains Nuts
£3.25
Massalla Sauce Large
Contains Nuts
£4.25
Special Biryani
Chicken, meat & prawn
£7.55
Chilli Naan
Stuffed with fresh green chillies
Hot
£2.55
Cheese Naan
Stuffed with cheese
£2.55
Chicken Nan
Stuffed with chicken tikka
£2.75
Garlic Naan
Stuffed with garlic
£2.55
Keema Naan
Stuffed with spicy minced meat
£2.75
Peshwari Naan
Stuffed with ground coconuts
Contains Nuts
£2.75
Cheese & Garlic Naan
Cheese & garlic
£2.75
Chutney Tray
Sweet mango chutney, lime pickle, chilli sauce, mint sauce, onion salad
£2.75
Balti Jalfrezi Chicken
Hot
£5.95
Balti Jalfrezi King Prawn
Hot
£7.95
Balti Madras Chicken
Very hot
£5.95
Balti Madras Prawn
Very hot
£6.15
Balti Madras Meat
Very hot
£6.15
Balti Madras King Prawn
Very hot
£7.95
Balti Mushroom King Prawn
£7.95
Balti Chilli King Prawn
Hot
£7.95
Tandoori Chicken (Breast) Main
Breast
£5.95
Tandoori Mixed Grill Main
£7.95
Red Peppers Special Main
Chicken tikka, lamb tikka, seekh kebab, stir fried with mushrooms, capsicum & onions
£6.25
Chicken Pakora (6 Pieces)
£3.55
Cheese Chicken Tikka (6 Pieces)
£3.75
Tandoori Chicken (Breast)
Breast
£3.25
Tandoori Lamb Chop (3 Pieces)
£4.15
Samosa (2 Pieces) Vegetable
£3.55
Vegetable Spring Roll (5 Pieces)
£2.95
Chicken Nuggets (6 Pieces)
£3.15
Balti Chicken Prawn Mushroom
£7.45
Balti Chicken Meat Mushroom
£7.45
Contact Us
Find Us
158 Yarningale Road, Birmingham, B146ND
We deliver to
B12, B13, B14, B15, B28, B29, B30, B31, B38, B47, B90